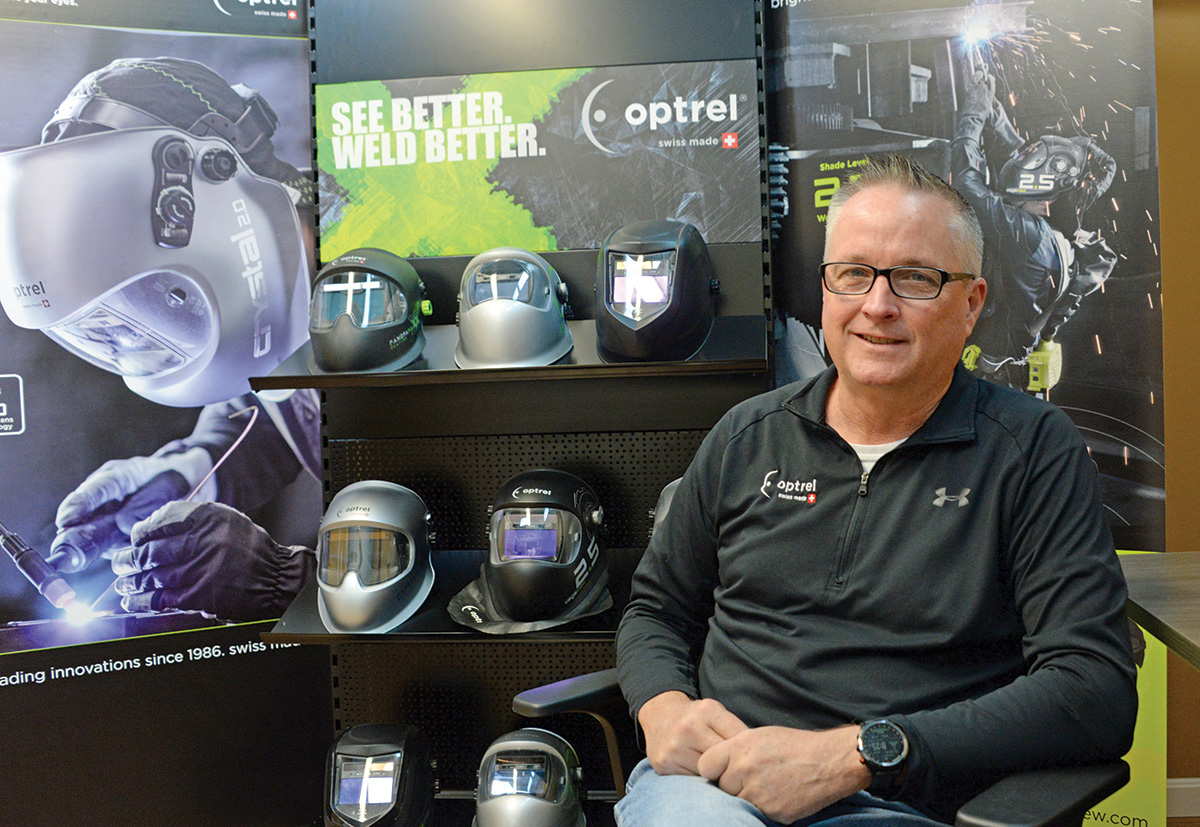 Whether for industry or healthcare, Optrel is all about protecting people
PBN Manufacturing Awards 2022
EXCELLENCE IN PRODUCT INNOVATION & DESIGN:
Optrel Inc.
---
Whether it is manufacturing products for medical professionals or for welders, Optrel Inc. is trying to create something new that is not yet available on the market.
The company's mission is "to be the innovation leader in everything we do, it's that simple," said CEO Grant Cooper. "We're just trying to find better ways to make products that make people's lives more productive, safer and healthier."
Optrel, which focuses on manufacturing equipment for industrial and healthcare supplies, has seen a transformation in the products it manufactures over the past few years, and understandably during the COVID-19 pandemic.
"In the run-up to the pandemic, we focused primarily on occupational safety. And I always like to say that we've gone from talking to welders on Fridays to talking to doctors on Mondays," Cooper said. "Since the beginning of the pandemic, we've really switched to products that are more health-friendly."
One of the company's biggest recent releases was the launch of a clear NIOSH-approved N95 face mask, the first of its kind in the world. The product allows the wearer's facial expressions to be seen, which can improve accessibility and facilitate communication.
"A common complaint you get with a traditional N95, no matter what your job was or if you were just someone on the street, was that it made communication difficult," said Jeff Morris, Optrel's business development specialist.
Another advantage?
"It's nice to see a smile sometimes," Cooper said.
From ideation to submission for approval, the process of creating the N95 clear mask took about nine months, Cooper says, which is much faster than the timeline for most Optrel products. He says most take a few years to hit the market.
But breaking into the healthcare industry hasn't been without its challenges.
"Healthcare is a challenging industry because a lot of people are locked into their habits, a lot of these products require fit testing and things like that where people don't want to switch products," Cooper said. "A lot of … time is spent working and trying to break into the healthcare industry."
Optrel operates with a small team of seven in Rhode Island.
"But we want to add something," Cooper said.
Morris, who joined the company in January, said Optrel has an "open door policy and everyone is kind of on the same level here. So everyone's ideas are heard, no matter who you are. The culture allows everyone to speak their mind. And that plays into the innovation. Everyone is encouraged to voice their ideas."
Optrel, which has an office in East Greenwich and a manufacturing facility in Switzerland, brings its ideas to the people of Rhode Island and strives to be more involved in the local business and technology communities.
According to Cooper, Optrel has worked with the New England Institute of Technology to donate welding products to the school and has also joined the Rhode Island Manufacturers Association.
"Even though we are headquartered in Switzerland, we are truly a Rhode Island-based company," said Cooper. "And we're really looking to expand our presence in Rhode Island and become a stronger member of the community than we have in the past. Our focus has always been national, but we really try to do some things locally to help the community."
In the fall, Optrel is preparing to launch a new product at the Fabtech conference in Atlanta in November. Cooper hints that it "offers workers everything they've ever really asked for in a welding helmet."
Optrel works to put new products in people's hands.
For Morris, Optrel is about "getting out into the field and having that face-to-face time. It's one thing to read about a product online, but it's another to actually have it [it] in your hands."
Would you like to share this story? Click here to buy a link that will allow anyone to read it on any device, whether they are a subscriber or not.