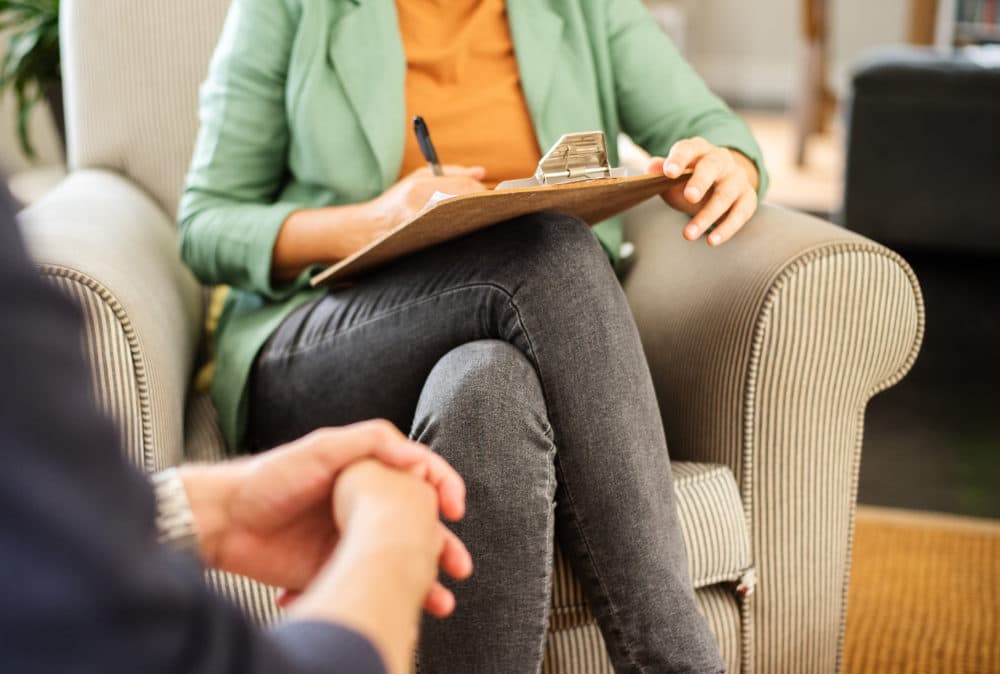 The report finds that a "labor crisis" is behind long waits for mental health care in Massachusetts
A new report suggests a "workforce crisis" is affecting mental health care in Massachusetts, leading to longer waits for outpatient treatment and fewer people in need of care.
The Association for Behavioral Healthcare report released Tuesday said the average wait time in the state for an initial mental health assessment by a licensed clinician is more than two months. It turns out that more licensed clinicians are leaving positions than are being hired.
The report's findings were based on surveys of 37 agencies representing 124 outpatient clinic locations across Massachusetts. The clinic sites served nearly 93,000 people in the 12 months leading up to the surveys being conducted last October and November.
Almost all clinics reported longer waiting times with almost 14,000 people on waiting lists. According to the report, the average waiting time for an examination or therapy was three weeks longer for children and adolescents than for adults. The clinics also reported that they were serving 11% fewer people in 2021 than before the coronavirus pandemic began, even as COVID increased demand for mental health services.
"Access to outpatient mental health services continues to decline," the report said. "Without significant new investment from the private and public sectors and the implementation of bold policies, access will continue to decline and create systemic labor shortages for outpatient and acute mental health services."
According to the survey, the main reason for the long waiting times was a declining workforce. The report found that in 2021, for every 10 psychiatric clinicians with master's degrees hired, 13 similarly qualified clinicians would leave their jobs. Almost half of the outpatient clinics reported that it took at least nine months to fill an independently licensed clinic position. ABH members reported that each clinician cared for at least 40 people and many quit their jobs because of salaries.
"We're concerned that the data is showing us that maybe a generation of people just did the math and decided they don't want to go into this field," said Lydia Conley, president and CEO of the Association for Behavioral Healthcare. "That was the worrying thing about the study – is this a harbinger of a really significant impact on the delivery system right now?"
Conley said many clinicians are leaving clinics to work in acute care hospitals, where salaries are often higher. The state also increased the number of psychiatric acute hospital beds in response to a dramatic increase in the number of psychiatric patients admitted to hospital emergency rooms. But Conley said this is contributing to the labor shortage by creating "a potential revolving door" for workers to go to more acute settings, leaving ambulances with fewer resources and staff.
"This pressure caused by ED boarding is driving the creation of new beds, and beds are absolutely needed, but it's causing this declining workforce to be diverted to these hirings," Conley said. "So unless we do something to really rethink and invest in ambulatory services, we will never address the root cause of boarding."
Conley said the state has made efforts to improve mental health care, citing new legislation and Gov. Charlie Baker's "roadmap for behavioral health reform," which called for the creation of community and emergency mental health care centers. The ABH report says the state's efforts "provide a strong framework to build on."
The report made several recommendations, including refocusing health spending toward behavioral health and primary care, and increasing reimbursement rates and student loan repayment programs for some clinicians.
In addition, the report urged commercial insurers to be more transparent about clinician reimbursement rates and urged them to contribute to a more complete assessment of government mental health staff.