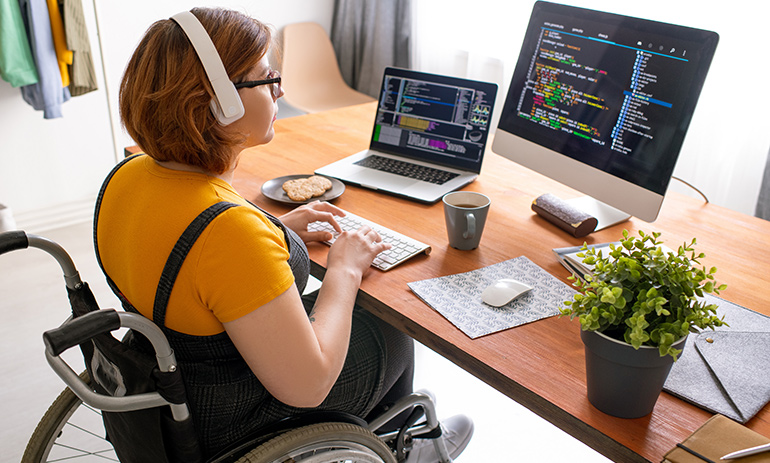 The missing link in organizations for the disabled
"I don't see any other reason why it doesn't change, other than a lack of willingness"
On paper, Graeme Innes AM is no doubt qualified to serve on the board of a charity.
He was Australia's Disability Discrimination Commissioner for nearly 15 years, worked as a lawyer and company director, and sits on the board of the Life Without Barriers charity.
But for all that, being blind meant missing out on a number of opportunities.
"My disability is why I'm not on a number of boards I could have been on," Innes told Pro Bono News.
He said that while steps had been taken in recent years to create more diverse bodies (particularly in the NFP sector), people with disabilities had not been taken into account.
"This is the same challenge women faced getting onto boards, and the NFP sector has really been at the forefront when it comes to having women on their boards and recognizing the skills they can bring," he said .
"But the industry is not assuming the same leadership role for people with disabilities."
A lack of diversity has consequences
Of particular concern is the low number of people with disabilities sitting on the boards of organizations for the disabled. These organizations range from charities, disability service providers to regulators like the National Disability Insurance Agency.
In 2017, the Australian Federation of Disability Organizations criticized a decision by the federal government not to include anyone with a disability on the board of the NDIA.
There are some outliers, however. The Disability Organization Australia, an alliance of four leading disability organizations across the country – People With Disability Australia, National Ethnic Disability Alliance, First Peoples Disability Network and Women With Disabilities Australia – requires that the boards of these organizations consist exclusively of people with disabilities.
Although there is not much data on the subject, a 2019 report by People With Disability WA found that only 44 percent of disability organizations in the state had board members with a disability.
As a disabled person, Christina Ryan, CEO of the Disability Leadership Institute, said after anecdotes that the problem is definitely there and is having an incredibly negative impact on the effectiveness of disability services and programs.
"There are people who run organizations who actually don't know anything about the services they offer. They are not, and never have been, service users, "Ryan told Pro Bono News.
"You have to solve the problem by actually doing what it takes to solve the problem, and that is appointing people with disabilities to boards of disability organizations."
"There is also no shortage of disabled people with leadership qualifications. Diversity leads to better discussion results and diversity means better problem solving in organizations. "
Ryan made a link between the lack of people with disabilities at the top and the introduction of reforms like those proposed by the government independent rating system proponents struggled for a number of months to close.
"A group of people who are not disabled are actually making choices about how disabled people lead their lives that would be wrong in any other situation," she said.
If there is no will, there is no way
Ryan said the shortage of people with disabilities in these organizations was due to a single factor.
"It's basically a prejudice," she said. "These organizations will come up with just about any excuse to avoid electing disabled people to their boards of directors and committees, or addressing disabled people to their boards and committees."
She said it was not a new topic, but one that disability advocates have known and fought against for several decades.
"I don't see any reason why it won't change other than a lack of willingness." She said.
Goals need to be set and action taken
Innes and Ryan both said there could be immediate steps to ensure disability organizations have the diversity needed to deliver good programs.
Innes said setting goals as part of strategic planning was a good first step.
"Set a goal of having 50 percent of people with disabilities on the board, and then make plans to achieve that goal," he said.
Ryan said that achieving these goals was something the government could intervene on by requiring an organization's funding agreement to make a certain percentage of its board of directors consist of people with disabilities.
"So if you are a disabled-friendly organization … at least 50 percent of your board of directors should be disabled people," she said.
"If that were a need for funding now, then these organizations would be certain that suddenly an enormous number of disabled people would come out of the woodworks."
She said something else that needs to be changed is the ways organizations (especially larger organizations) are recruiting.
"Some of these big service providers work like companies, which means they don't go to the community to find their board members, but rather through recruiters or their own networks, which is hardly the case." Will be other people with disabilities " , she said.
A future full of possibilities
Innes said the struggle and the urge to see real diversity on the boards were vital, although there was still a long way to go.
"When I first joined the board of directors at Life Without Barriers and first moved into one of their offices, the immediate assumption was that I would be there as a customer. There was never any possibility that I was either an employee or a board member, "he said.
"That was the culture I encountered for the first time, and it's completely different now.
"One of the things that made a difference is the fact that I am a person with a disability on this panel and other people with disabilities see this, which removes their low expectations of what is actually achievable."
If you're interested in learning more about how to add diversity to your board, visit these resources from our community.