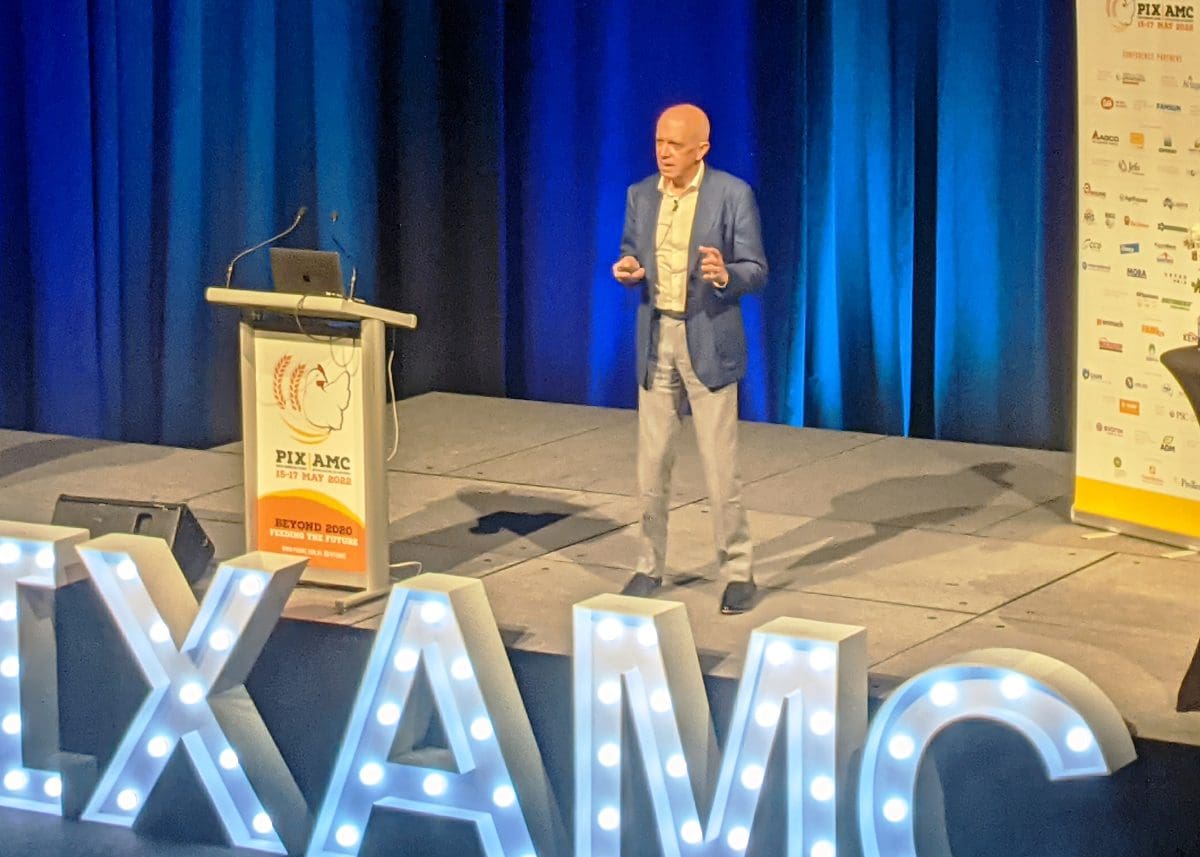 Tech to channel food into healthcare industry by 2050
WHEN Tony Hunter looks to the future, he sees a world without a food industry, and not because people have stopped eating food.
He says the food industry is merging with the healthcare industry, and companies including Nestle and Mars are trying to ride the tech wave that's already pushing a multitude of companies into the food space.
Speaking recently at the Poultry Information Exchange and Australasian Milling Conference or PIX/AMC 2022, an event on the Gold Coast, the food futurist shared his TECHXpotential concept with attendees including representatives from the pork sector.
While it includes alternative proteins and cellular agriculture, Dr. Hunter focuses on the other three core areas of his concept: genomics, the human microbiome, and synthetic biology.
Animal protein and other traditional foods were only mentioned in passing.
"I see that there will be no food industry in 2050."
"There will still be food companies, but I don't think there will be a food industry that is indistinguishable from many developments in the healthcare industry.
Mr. Hunter is based in Brisbane and started in 1987 as a technical manager at FJ Walker Foods, the supplier of hamburger patties to McDonalds.
He's worked extensively with other chains, including Burger King, and delved into food futurism in 2017, when he started noticing a "real uptake of new technology."
"This is the most exciting time in the food industry in 30 years."
Mr Hunter said perceptions about the role of food were already changing.
"People don't just eat for energy… they eat for their well-being."
"But since people eat for their health, what industry are food companies in? They work in the healthcare industry."
The Nestlé Wellness Ambassador program, which includes DNA testing, AI and food on social media, is in pilot phase in Japan, and Mars Group is buying Foodspring, a Germany-based targeted nutrition company, in 2019.
Kerry, an Ireland-based multinational ingredient manufacturer, now also offers a range of wellness ingredients from ProActive Health.
Mr Hunter said these corporate moves are among many showing that technology has the ability to impact diet on a personal level and that uptake is already happening.
And while the world's Gen Z population has witnessed the introduction of digital technology into everyday life, Mr Hunter said that Generation Alpha was born into the digital age.
"They're much more likely to accept technology in their diet."
Science influences food choices
Mr. Hunter spoke about some of the companies around the world that are at the forefront of bringing science to the design of diets and the preparation of food.
On the genomics front is DnaNudge, a London-based company that can analyze a person's saliva and turn it into personalized nutritional recommendations.
Also from the UK is Atlas Biomed, which uses DNA to determine personalized disease risks, food intolerance predispositions and dietary recommendations.
"That's what we futurists call a signal."
Mr Hunter said the uptake of DNA analysis is likely to find its way into more than just the domestic kitchen, and platforms such as UK-based restaurant ordering and management platform Vita Mojo could well be the vehicle.
"I don't think the hospitality industry will be immune to the effects of DNA testing."
Mr Hunter said personalized responses to blood sugar by companies like Day Two in the US are also included in the equation, as are personalized probiotics, which add bacteria and fungi to improve gut and overall health.
Brisbane's Microba is a leading researcher in the field, and Mr Hunter said he could see personalized biome profiles becoming the norm.
"It will be as common as DNA in the years to come."
With personalization already rampant in our digital lives through platforms like Spotify, Google and Netflix, Mr Hunter said its ability to achieve diets is easy to see.
Synthetic spreads
In the field of food manufacturing, Mr Hunter said, there are already numerous examples of synthetic biology, which involves taking the gene for something and making it make the product you want.
"The best example of this is cheese."
Mr Hunter said that in 1990 Pfizer developed a substitute for rennet, which occurs naturally in calves' stomachs, by incorporating chymosin, rennet's primary enzyme, into a microorganism to produce more chymosin.
This genetically modified product is now used to set 80-90 percent of the world's hard cheeses.
Using similar technology, US and India-based Perfect Day has used technology to produce cruelty-free whey protein, some of which is used by US milk producer Betterland.
Beyond dairy, EVERY makes protein-like proteins with support from US-based global food giant Ingredion.
Another example is Iceland's ORF Genetics, which uses bioengineered barley to produce cell culture meat and other products.
Mr Hunter said Nobell Foods is already a market leader in plant-based milk substitutes and has introduced the gene for casein in soybeans as an example of molecular plant breeding, using plants as bioreactors.
"Your products will be launched next year; another scientific fact, not science fiction."
Hunter presented some startling images in his presentation of where nutrition is headed in the future.
One comes from SavorEat in collaboration with BBB burger chain in Israel, which uses a 3D printing and cooking robot to create food in six minutes with protein, fat and other metrics specified by the customer.