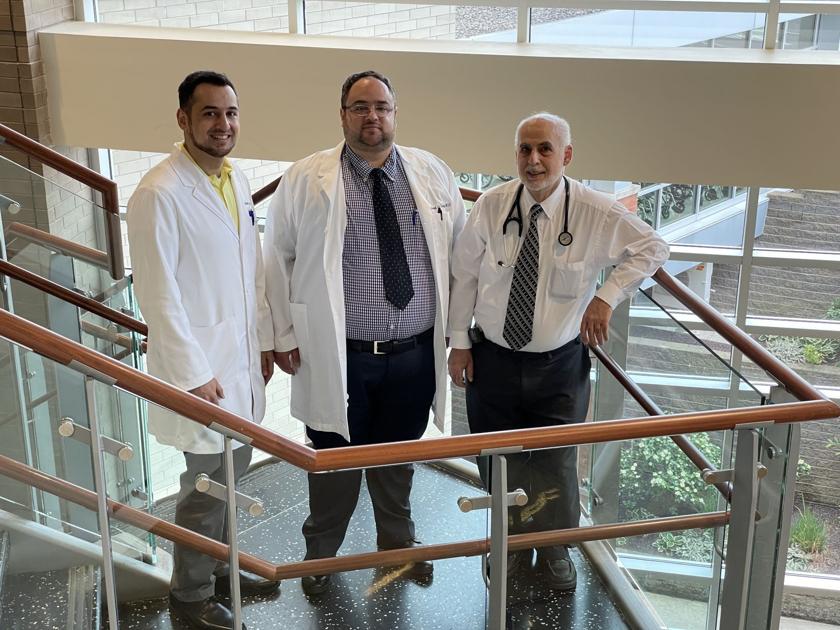 Sabbagh children follow their father into health care | WV news
[ad_1]

BRIDGEPORT, W.Va. (WV News) – Many people look up to their fathers, but for Bridgeport's Sabbagh family, that admiration has carried over into their professional lives, with four out of six children following their father into the medical field. including three in Bridgeport. The other two are considering similar careers.
The cardiologist Dr. Abdulmalek Sabbagh has his own private practice, but spends much of his time at the United Hospital Center. He is known throughout the hospital for his friendliness and long hours.
This model also had an impact on his children.
"With his specialty, many patients are dependent on an intervention or a procedure, or they have a heart attack and have to go to the cath lab quickly, and he is there for them when they need it," says his son, Dr. Annas Sabbagh. "As an adult I know that sometimes we do things together and he is called and has to go to the hospital. I never felt like he was away from me. I always knew that he helps people and that someone's life could depend on him going to the hospital. "
Annas is now a pain management specialist at UHC and seeks to incorporate the lessons he learned from his father – from hard work to patience – into his own practice, "and how he treats everyone with dignity and respect they deserve ".
Abdulmalek's eldest son, family doctor Dr. Mohamed Sabbagh, works in his father's private practice. He knew he wanted to study medicine because of his father, said Mohamed.
"When I was growing up, I saw my father and didn't know how many hours he worked," said Mohamed and laughed.
Abdulmalek's second oldest cardiologist, Dr. Ebrahim Sabbagh also works with his father in their private practice.
The fourth child is an ophthalmologist completing a vitreoretinal surgery fellowship in Kentucky.
Abdulmalek's youngest, 17 years old, also wants to become a doctor, and his 20-year-old daughter is planning to study dentistry.
"It was a surprise that everyone wanted to go (to the health sector). Most of the other families, some of them in medicine, some in engineering, but everyone here wanted to do that, "he said.
Abdulmalek, who came from Syria, came to the USA in 1984 to continue his education after studying medicine in Aleppo. It was a year after he and his wife, whom he met in Syria, had their first son.
Abdulmalek completed his internal medicine training in Johnstown, Pennsylvania at Conemaugh Valley Memorial Hospital, followed by a cardiology fellowship in Philadelphia at Thomas Jefferson University Hospital.
After completing his training in 1993, he was obliged to practice temporarily in underserved areas. He decided to come to West Virginia.
"I've been here ever since," he said.
Abdulmalek said the decision to stay was not only due to the time he spent setting up his practice, but also because he and his wife fell in love with the area.
"We liked it here. We found the environment here to be great for the kids, for the family. I have a big family, "he said. "We lived in the big city for a while. We lived in Philadelphia; we lived in Cleveland so we've seen both. I come from a big city in Syria. We like this area here. "
All these years later, Abdulmalek continues to enjoy the work and the environment at UHC.
"I enjoy it. I wouldn't work if I didn't enjoy it.… I don't have any other hobbies, that's why I like the work," he says with a laugh.
But his patients are also a big part of his stay. Abdulmalek has often treated several members of the same family, and he got to know many of the families well because of the family culture of West Virginia.
"This is unique in this area. You don't have to fish to find a brother or sister or father or mother or son to care for a patient. In Philadelphia, when I was working over there, if you have to operate on someone and talk to their family, good luck. His son would be in Philadelphia, the other in New York. Here you can see the family. You're coming in, "he said.
Despite long working hours, the Sabbagh family continues to take time for the family. They want to spend Father's Day together.
"They all come home almost every weekend – the women, their children," said Abdulmalek. "We spend all the holidays together."
As a family, they enjoy sharing meals and spending time in nearby parks, but the activity is unimportant, he said.
"The most important thing is that we meet," he said.
The older Sabbaghs now have seven grandchildren and an eighth on the way. Abdulmalek said it was too early to know their interests and whether or not they will follow family tradition with a career in healthcare, although evidence is already there.
The oldest wants to become a cardiologist when he is 10 years old.
JoAnn Snoderly can be reached at 304-626-1445, by email at [email protected] or on Twitter at @JoAnnSnoderly.
[ad_2]