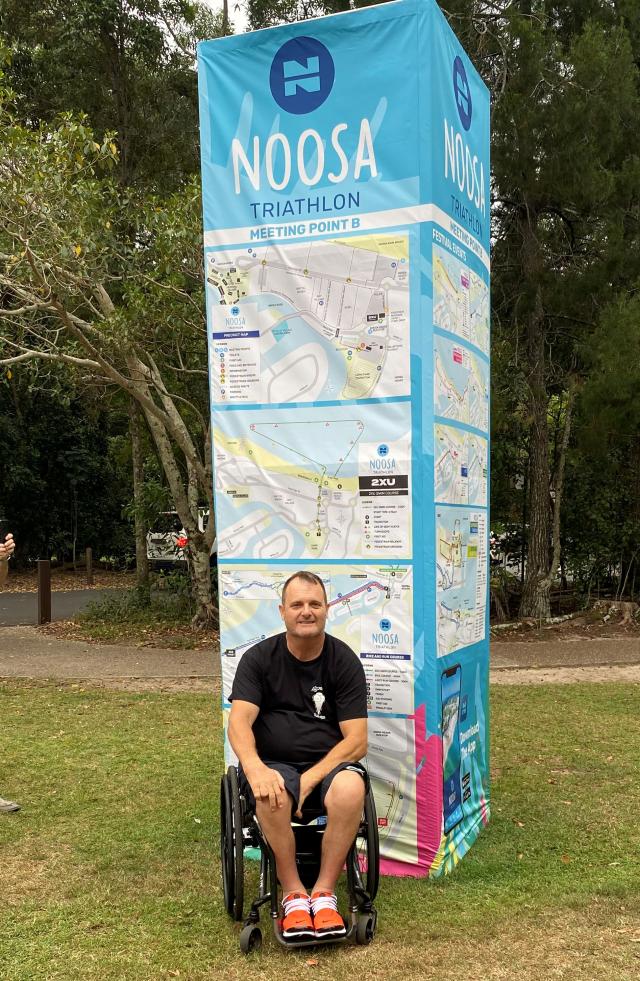 Rhys prepares for Noosa Triathlon
Rhys Tappenden didn't start competing in triathlons until this year, but he continues to build his strength and nutrition knowledge through the National Disability Insurance Scheme (NDIS).
The 45-year-old from Margate – who suffers from quadriplegics – works four days a week with an exercise physiologist with cycling and weights.
Rhys said he had decided to get fit when the Covid restrictions started and he thought this was the perfect opportunity to focus on yourself and eventually work towards competing in three triathlons this year and hopefully more in 2022.
"I started going to the gym with my exercise physiologist who got me moving," Rhys said.
"We'd be in the gym up to two days a week, but I didn't want three because it could get boring, so I thought, what are we going to do? We did some cardio and just pushed my day chair in, but then we wanted to go faster.
"I took out my old handwheel that I bought years ago, and so we started handwheeling for three minutes and off for three minutes.
"My exercise physiologist then asked me if I would like to do the Moreton Bay Triathlon, but we only had three months to train for it; I did the cycle and it took just under three hours. "
Rhys said he soon set his next goal of doing the Noosa Triathlon and then added another Moreton Bay Triathlon that was 40 minutes down from his original time.
"For this year's Noosa Triathlon, I did the handbike part of it, that's 40 kilometers, and it took me about two hours and 40 minutes; I really want to cut that down to two hours, "he said.
Rhys said that having access to these supports will help him lose weight.
"At the beginning of my fitness journey, I had six sessions with a nutritionist that really gave me a good understanding and balance about what has changed with age and how to maintain my weight," he said.
"I weighed 105 kilograms and now I'm back to 95 kilograms, which is roughly the weight I was before my accident; My goal is to definitely fall into the 80s. "
Rhys said his mental health had improved a lot since he had access to NDIS.
"I was kind of lost for many years, but then I got NDIS funding that allowed me to spend the last 12 months seeing an exercise physiologist who has become a good friend," he said.
"It took me from a place where I didn't really know where to turn and I didn't really know what to do. They are excited and they are just as excited as I am. I think I've created a bit of a team for myself. "
Rhys hasn't forgotten his first goal, skiing while sitting down.
"All of the basic fitness I build is the foundation I need to be able to enjoy something like this. then I just get in touch with disabled winter sports enthusiasts and organize them so that I can set them up and borrow them, "he says.
"I would love to go to Thredbo or Perisher because I used to do all that snowboarding."
Rhys also uses support at home, with staff helping him with cleaning, washing and preparing food.
Rhys received assistance in soliciting and implementing its NDIS funding from Carers Queensland's local NDIS coordinating partner in the Moreton Bay community program.
Rhys said NDIS and Carers Queensland helped him achieve his goals.
"I could use the word revolution; a hundred percent turnaround. I can feel that at the moment, "he said.
"It was an enormous year this year, and thanks to the opportunity to call in my exercise physiotherapist, we achieved many goals."