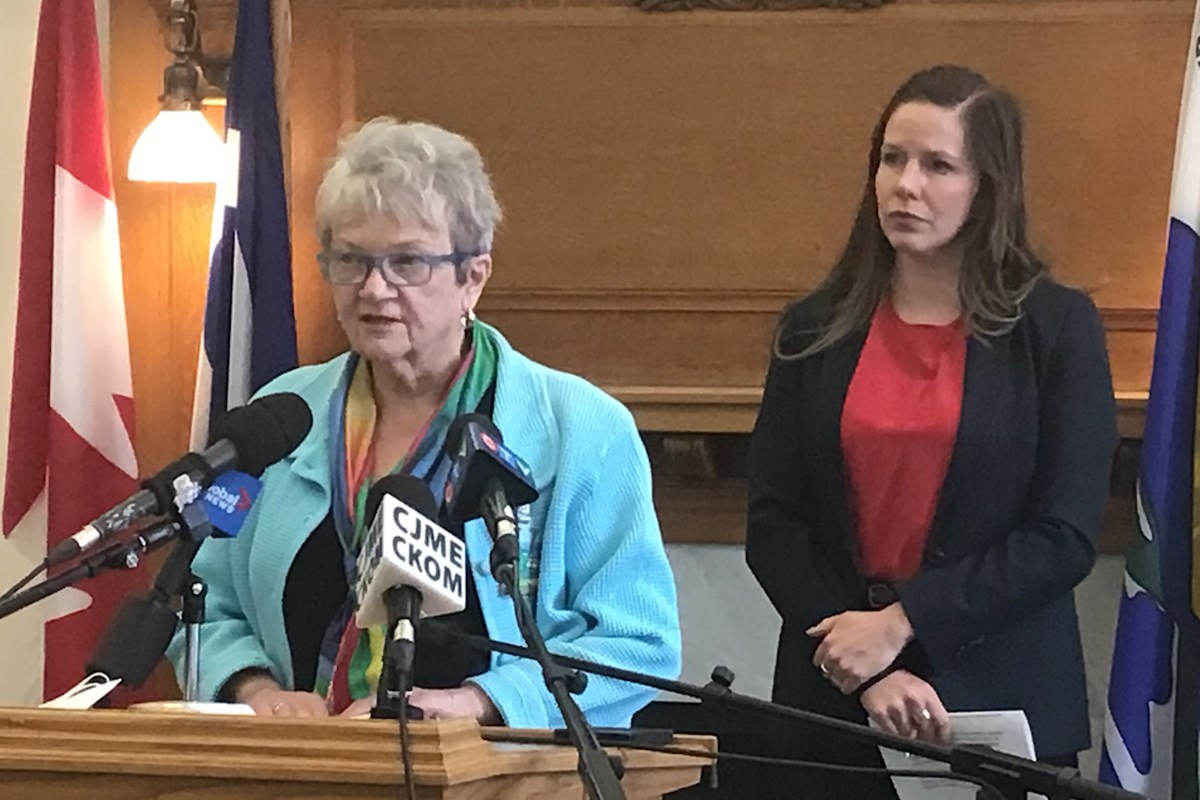 Official opposition urges Minister to increase SAID rates
REGINA — The Saskatchewan Assured Income for Disability (SAID) program came under the scrutiny of the Legislature on Monday.
The issue was raised by opposition social service critic Meara Conway, who held a media conference attended by James MacLachlan, a SAID recipient who lives with myotonic dystrophy and is wheelchair dependent and lives in a nursing home.
He was accompanied by his sister Barbara Sambasivam. The media also included social workers, anti-poverty advocates and representatives from the Canadian Mental Health Association, Moose Jaw Food Bank and the Regina Anti-Poverty Ministry. They demanded an increase in the benefits for SAID.
Conway explained at length MacLachlan's plight. It was found that the Department of Social Services had decided to reclaim his full CPP disability and long-term disability insurance from his time with SARCAN. In March 2022, MacLachlan appealed the decision and won, but the decision was overturned by the Department's Social Services Appeals Committee, which found the practice was consistent with SAID guidelines and that only the Minister could exempt the income.
The decision was found to have put James in a precarious position as he did not have enough to pay his rent.
"James is by no means alone in this fight, as the Sask Party government has a proven track record of reclaiming the pensions of people with disabilities," Conway said.
Conway said she has written to Social Services Secretary Lori Carr on several occasions, "making her aware that her department discriminates against people with a long-term and permanent disability, and to date she has refused to change that policy."
MacLachlan and the various representatives all attended Monday's legislative process. During Question Time, Conway raised the issue directly with Secretary Carr.
"This administration has directed cut after cut after cut of the SAID program," Conway said.
She described SAID as an income replacement program for people with permanent disabilities, adding that there had been no increase in seven years, a 20 percent cut in benefits.
Social Services Secretary Lori Carr responded that social services have programs to help individuals meet their challenges of earning more income and becoming self-sufficient and able to participate in their communities. She said since her government introduced SAID in 2009, it has had four increases over the period. She also pointed out that the community the program serves had been asking for a program for years, only to be "ignored to the members who never implemented a program."
"This member knows full well that there hasn't been an increase in seven years," Conway said, pointing to other cuts.
Then Conway pointed out MacLachlan's situation. She said after MacLachlan applied for SAID, he learned that social services would reclaim his CPP pension as well as his SARCAN pension, making him eligible for $83 a month. She said the clawbacks meant MacLachlan couldn't live in his home.
Carr responded that the SAID program, as well as the SIS program (discussed the week before) are "programs of last resort" for individuals. Carr then read into the minutes of Ana See from former Prime Minister Lorne Calvert that "welfare and welfare is finance of last resort".
"It's not welfare," replied an indignant Conway. "This is an income replacement scheme… what a deadpan and cruel response from this minister."
Conway pointed out that the minister appealed to the Social Services Appeal Board after MacLachlan received a favorable ruling for MacLachlan from the Social Services Appeal Board, which subsequently overturned the verdict.
She asked if the Secretary would exempt MacLachlan's SARCAN and disability pension so he could stay in his home. When Carr reiterated that SAID was a program of last resort, Conway replied, "James is here as a last resort."
At the end of the call, Carr said she was willing to meet with MacLachlan after Question Time.