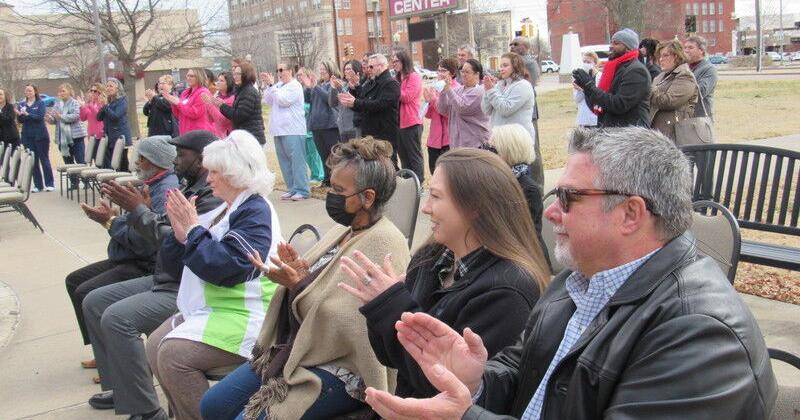 Mayor campaigns for local healthcare needs | schools
Plans to Expand Saint Francis Hospital Muskogee is sending a message to those proposing to close the Jack C. Montgomery VA Medical Center, Mayor Marlon Coleman said.
"If Saint Francis can justify the need for an expansion, it contradicts the VA's desire to reduce services," Coleman said. "If Saint Francis sees the need to add at least 125 new berths, we can certainly expand the care we provide here for our veterans. It's not like our population is shrinking to the point where they don't need health care anymore." The VA serves veterans in eastern Oklahoma who are being cared for here in Muskogee."
The mayor made the comments after a Thursday morning gathering in which he promoted Saint Francis' announcement that he would build a new tower at his hospital. Saint Francis Muskogee recently announced a $150 million expansion project that would add a tower with 125 new beds.
Saint Francis' announcement happened to come within a week after the Department of Veterans Affairs recommended closing the Jack C. Montgomery VA Medical Center once a new hospital is built in Tulsa. The department cited declining enrollments and increased demand for long-term and outpatient care as the reason for the closure of Muskogee Hospital, which has served veterans from east Oklahoma for 99 years.
Thursday's gathering attracted both city officials and Saint Francis Muskogee employees. Several employees wore jackets in pink, the signature color of Saint Francis.
"The need for greater access to quality health care is evidenced by the growing presence of Saint Francis health systems here in Muskogee," said Coleman. "Today, more than ever, I rejoice in our relationship with St. Francis in our community."
Coleman thanked the Muskogee Medical Authority for their recent agreement with Saint Francis "guaranteing their existence for decades to come."
Earlier this month, the Saint Francis Health System and MMCA reached a settlement agreement that ends a lawsuit filed by MMCA in 2019 over ad valorem taxes on leased properties.
The Tulsa-based network of hospitals and medical clinics also agreed to make a one-time lump sum payment of $2.7 million to benefit Muskogee Public Schools, the public library and other community organizations.
The mayor said he welcomed the expansion.
"Brand new hospitals are not being built in rural communities in these economic times," Coleman said. "Saint Francis is about changing the dynamic. It's about breaking down barriers, changing caps and making sure everyone has access to healthcare."
Saint Francis Muskogee Administrator Michele Keeling told those gathered that expansion work had begun.
"This week we had over 20 civil engineers, architects and electricians here to start the planning process," she said. "We call it Renderings to Reality."
Keeling said the building will be approximately 245,000 square feet. There will also be new family and visitor rooms and a new chapel.
"This building is becoming a sacred place," she said.
Coleman also addressed the VA proposal, which has nothing to do with expansion, at Thursday's meeting. He said the hospital serves 50,000 veterans and their families in eastern Oklahoma.
"I'm working with our federal congressional delegation — I have meetings with some of them tonight — to fight for the right to keep our Veterans Hospital in Muskogee, USA, open," he said. "Our nation's veterans have fought for the survival of our democracy, and we owe them the same fight to guarantee they have veteran health services here in Muskogee."