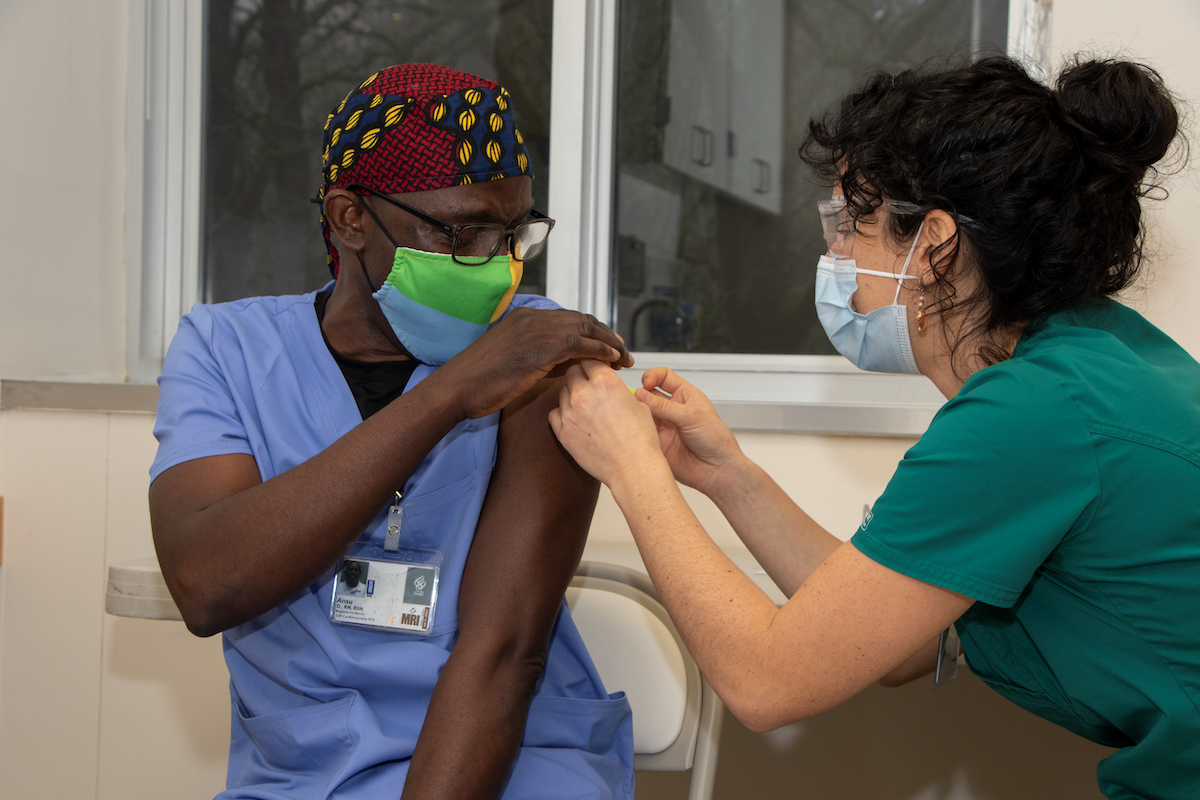 Many Oregon healthcare providers remain unvaccinated, new data shows
94 percent of Oregon dentists received a COVID-19 vaccination.
But only half of chiropractors have had a sting. And for chiropractors, the vaccination rate is 45%. Dentists and chiropractors represent the high and low end of vaccination rates among licensed health workers in the state, new data shows. Many other health professionals also have relatively low vaccination rates: only 57% of certified nursing assistants in Oregon are vaccinated; 60% of licensed professional nurses are vaccinated; and only 56% of advanced paramedics have received an injection.
The picture came from data released this week by the Oregon Health Authority. The data pulls the curtain back on how health professionals accepted – or resisted – the COVID-19 vaccine.
The relatively poor rates in many health professions have raised the question of whether or not mandatory vaccination should be required for healthcare workers who may come in close contact with patients and are at high risk of contracting the virus or passing it on to others .
The state's hospital industry group says Oregon leaders need to strengthen and change the state's laws to allow providers to mandate vaccinations.
However, others say it is better to use advocates and other means to get healthcare workers to vaccinate rather than threatening them with firing.
Either way, the data is illuminating as it shows how many health care workers have turned down the vaccine or simply did not care, even as health leaders advocate vaccination of the entire population.
Hesitation hits the healthcare system
Some of the data come as little surprise: Health workers as a group are slightly more vaccinated than the general public. Overall, they had a 70% vaccination coverage rate by the end of June, ahead of Governor Kate Brown's target of 70% for the general population. The state achieved this goal on July 2nd.
However, health workers had much more time to get vaccinated.
They were the first group to be eligible for vaccines when vaccinations were scarce and in high demand when Oregon developed priority lists to get vaccines to frontline medical workers and others at greatest risk. That was before Oregon offered lottery prizes and freebies to boost its sluggish vaccination rate after gunshots became widespread.
If anything, the data serves as a reminder that Oregon vaccine hesitation continues to persist, even among those who work in the healthcare sector and have had access to vaccines longer than other Oregonians. In addition, the barriers to vaccinating the broader population of Oregon also exist among health care workers. Minority health workers or those living in rural areas of the state often have lower vaccination rates than their counterparts elsewhere in Oregon.
This underscores another reality for Oregon: State law prevents health care providers and hospitals from making COVID-19 vaccines mandatory for employees who work with their patients, even though the same providers vaccinate the general public and point out the importance of vaccination. The law requires healthcare employers to offer vaccinations to their employees, but they cannot make vaccines a condition of employment.
The debate continues even as Oregon reopens its economy and embarks on the long road to herd immunity.
Oregon still has a goal to vaccinate 80% of adults to reach this threshold. To achieve this, the state will have to vaccinate nearly 455,000 more people, according to the health authority. Currently, only about 5,000 people are vaccinated each day, state data shows.
Hospital group: "Misguided policy"
In response to state data on vaccination rates among health care workers, the Oregon Association of Hospitals & Health Care Systems said Wednesday that the state's "misguided policy" of not allowing vaccination requests at work continues to hamper progress. Hospitals across the country support mandatory vaccines for employees.
"As the number of hospitals and health systems that require COVID-19 vaccination for employees in the US continues to grow, we can't even have the conversation here in Oregon," said Becky Hultberg, president and CEO of the association , in a statement. "Ensuring that health workers are vaccinated will protect vulnerable patients, visitors and employees. It is ruthless to leave tools on the table during a global pandemic. It is long time for heads of state to tackle this misguided policy. "
More than 30 hospital systems and hospital associations across the country support vaccine mandates, according to the Oregon Group. The Houston Methodist was the first health system nationwide to mandate vaccinations for employees as of April, according to a report by the Association of American Medical Colleges.
Italy, France and Greece are among the nations that have mandated vaccinations for health workers.
The spokesman for Oregon Governor Kate Brown did not rule out or endorse mandatory vaccinations on Wednesday.
"For both their own safety and the safety of the patients they work with, it is vital that frontline health workers are protected from COVID-19 with vaccines," said Charles Boyle, spokesman for Brown. "Therefore, the governor has given health workers priority in Phase 1a of the Oregon vaccination effort. The Oregon Legislature has just completed a six month term which would have been the appropriate place to raise this issue and discuss such an amendment to Oregon Law. "
Boyle said the topic "deserves careful consideration and public input from employers and workers alike," adding that the February 2022 legislative session will provide that opportunity.
But there is opposition to such a mandate, both in Oregon and in other states. In Texas, 117 Houston Methodist workers tried the mandate in federal court, but their case was dismissed by the U.S. District Court in the southern Texas district. In the June 12 ruling, the judge stated that the hospital is "trying to save lives" and staff can refuse to get an injection and work elsewhere.
Nurses Union endorses the law
The Oregon Nurses Association, the union that represents approximately 15,000 registered nurses and related health workers, said it was not seeking to change state vaccination laws.
Nurses have a vaccination rate of 74%.
"ONA has a long history of promoting and delivering free vaccinations while protecting the privacy of medical records," said Scott Palmer, union spokesman. "We are not currently seeking to change the Oregon Bylaws regarding vaccination in the workplace. We will continue to discuss the most effective ways to ensure COVID-19 vaccines are accessible and equal to all Oregonians. "
Palmer added that instead of killing people, companies would have other tools they could use to increase vaccination rates.
"We believe companies can do a lot more work protecting workers and increasing vaccination rates before firing Oregoners who work during a pandemic," Palmer said. "Businesses must first ensure a safe workplace and support workers by providing adequate safety equipment, vaccination training, paid time off for vaccination appointments, paid sick leave that covers possible side effects of the vaccine, and employee compensation benefits for workers in high-risk environments on-the-COVID-19 contract -job. Healthcare companies can do more to make vaccination an easy choice for all Oregonians. "
Misinformation remains a concern
In rural Oregon, vaccination rates for health workers are low, a trend line similar to that of the general population.
Grant, Harney, Lake, and Malheur counties each have a vaccination rate of 50% or less for health workers, the state data shows. Harney County has the lowest rate at 43%.
The Oregon Health Care Association, which represents the long-term and senior housing industry, said health care workers continue to be reluctant to get vaccinated.
"Our employees are exposed online and in the same vaccine misinformation
their daily lives like other Oregonians, "the group said in a statement.
Some providers have been able to achieve high vaccination rates, while others continue to see reluctance among employees, according to the group.
There are 21 active COVID-19 outbreaks, with a total of 188 cases in senior housing and other meeting places across Oregon, state data released Wednesday shows.
The Portland Tri-County area and Lane County, which also includes Eugene-Springfield, all have overall provider vaccination rates of 75% or more. Benton County has the highest percentage of vendors: 82%.
You can contact Ben Botkin at [email protected] or via Twitter @ BenBotkin1.