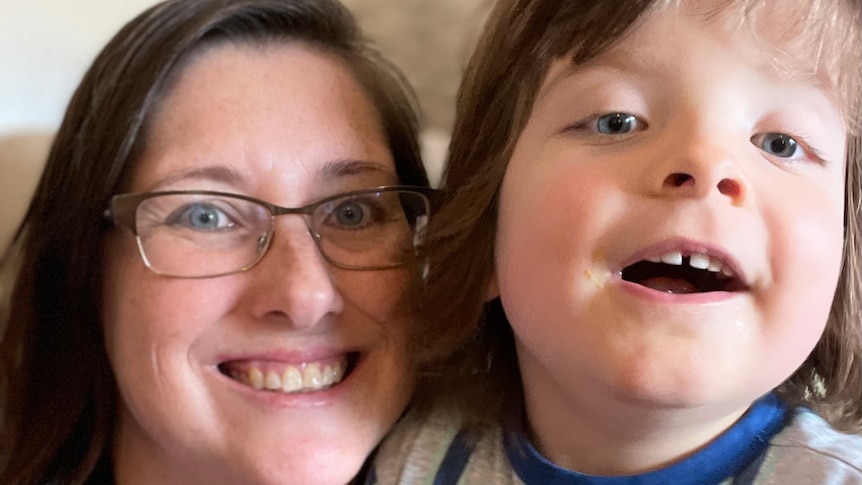 Many Australians cannot live with Omicron – and are forced to remain in COVID lockdown
For many Australians now living with Omicron, "COVID Zero" is a distant memory.
But not for the Myers family.
Core items:
Many vulnerable Australians are unable to live their lives with COVID circulating in the community
Some are being forced into a self-imposed permanent lockdown to protect themselves
Disability advocates say many at-risk Australians lack essential support
They are attempting to remain a "COVID zero household" by shutting themselves off from the outside world and living in a bubble.
Despite having two sons with "high needs", Fiona and David Myers prevented aid workers from coming to their Sydney home to protect them from the current Omicron surge.
There would normally be up to four helpers in the house each day, but the family have decided that their only option at this time is to be on their own.
"Trying to meet the needs of both boys was difficult," Ms. Myers said. "We're also torn because it's not sustainable in the long run."
Ms. Myers' four-year-old son, Korbyn, lives with an undiagnosed genetic syndrome that causes complex disabilities.
Korbyn is visually impaired and is mostly fed by clips or tubes and needs assistance with "every part of his daily life".
Ms Myers' 10-year-old son, Hayden, is autistic and requires personal support "just about every hour he's awake."
On the advice of a pediatrician, Hayden and his 11-year-old sister Charlotte did not go back to school this year to avoid bringing COVID back to Korbyn.
"That's the reality for us if Korbyn were exposed without protection at this point."
Ms. Myers lives with myalgic encephalomyelitis, or chronic fatigue syndrome, and her husband has three autoimmune diseases.
The couple are triple vaccinated and their older children have received one dose and are awaiting their second. Korbyn will be vaccinated when he turns five in June.
Mr. Myers runs his business from home and her assistants helped in "creative" ways such as running errands, grocery shopping and meal prep for Korbyn.
But despite the help, she said, they feel "completely ignored" by governments and that there needs to be more public education on how to reduce community transmission to protect people like her family.
"The disability community has no choice in all of this [it's] a genetic lottery," she said.
"You are in danger of dying"
Professor Anne Kavanagh, from the University of Melbourne's Center for Research Excellence in Disability and Health, said the current situation for the sector was "worrying".
She said there is no data on the actions people with disabilities and their families are taking to protect themselves.
"We know anecdotally that there are many people who have missed out on care due to a workforce shortage for the disabled, either because their workers have had to isolate or because they were COVID positive."
According to government statistics, there were at least 180,000 workers in the elderly and disabled sector before the pandemic.
"Some people literally rely on people to help get them out of bed, feed them, shower them," Professor Kavanagh said.
"If they don't get this important support, they are actually at risk of dying from non-COVID-related causes."
Nearly two years into the pandemic, Professor Kavanagh said there were still no plans for a flood of disabled support workers to fill gaps if needed.
Rapid COVID tests are still in short supply for disability workers. And high-quality N95 masks are still not mandatory for home visits.
According to Professor Kavanagh, the situation is so dire that aid workers who may be infectious are still making house calls.
'Due to the issues surrounding labor shortages, there are exceptions for disabled workers who are allowed to go into people's homes if they have close contacts,' said Professor Kavanagh.
"So the very group of people that we're trying to protect are at risk because we've had to bring back a workforce that we've previously kept isolated."
Excess workforce not required: Government
In a statement, National Disability Insurance Scheme (NDIS) Minister Linda Reynolds said she had "nothing but praise and great admiration" for the way the sector continues "to work together and with Government on the continuity of the workforce, Infection Control and Vaccinations".
"In December 2021, the National Agency for Disability Insurance was engaged [independent disability support service] genU to provide workforce support services to disability service providers in every state and territory," she said.
"Since the beginning of the genU contract, genU has solved all recommendations [and] requests they have received," the statement said.
Ms Reynolds said participants could purchase RATs with their NDIS plans to "meet their support needs".
"I encourage any NDIS participant who needs additional support or planning funding as a result of the current outbreak to contact the NDIS to discuss their specific needs."
Support a "connection to the world"
In Perth, Natasha Platcher is concerned about the impact the lack of support has had on her disability.
The 47-year-old lives with MS and relies on helpers for the disabled six days a week.
"You are basically my right hand man [they're] definitely my be-all and end-all and connection to the world," she said.
Ms. Platcher's three adult children all work and her husband also lives with a disability. When lockdowns hit Western Australia, their day-to-day support stopped almost immediately.
"When I'm stressed, my symptoms increase, my stuttering increases, my cramps increase… I can't do simple things and everything is so painful."
Western Australia is still behind a hard border and is the only Australian jurisdiction that has yet to 'open up'.
It's in the midst of a small omicron wave, but Premier Mark McGowan hasn't given a date as of when it will tumble its limit and effectively let COVID in.
Although Ms Platcher agrees endless lockdowns are unsustainable, she wished the opening up would be accompanied by a plan to safely maintain home support for people with disabilities.
"People just thought we were being looked after, but we weren't," she said.
"There weren't any ideas how we could make this work for these people?"