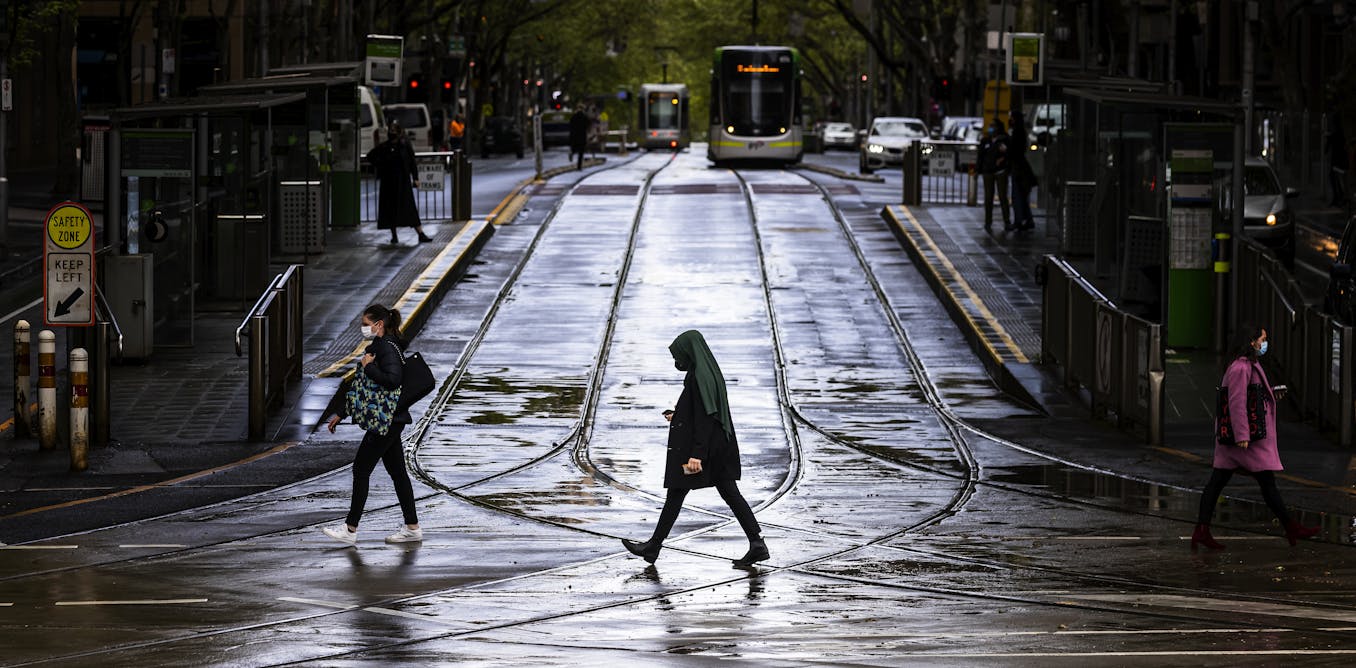 Lockdowns doubled the risk of mental health symptoms
During nearly two years of repeated COVID lockdowns, we have heard great concern from many different quarters about the mental health implications of forcing people to stay home and distance themselves from friends and family.
Many research projects have been undertaken to try to measure the magnitude of mental health effects.
However, the speed at which research was generated has meant, in some cases, that research quality has been sacrificed, and some research has found evidence of an effect on mental health while others have not.
---
Read more: Most of us will regain our sanity after lockdown. But some will find it harder to recover


---
To understand the very mixed results, my colleagues and I reviewed all of the mental health studies conducted during the first year of the pandemic.
We included 33 published articles that examined a total of almost 132,000 people in different world regions.
We found that social restrictions doubled the overall likelihood of developing mental health symptoms. This means that of those who participated in these studies, those who experienced lockdowns are twice as likely to suffer from mental illness as those who didn't.
This finding can be further broken down into different mental health symptoms. Social restrictions made people 4.5 times more likely to experience symptoms of depression, nearly 1.5 times more likely to experience stress, and nearly doubled their chances of experiencing loneliness.
Looking more closely at these results, we found that the length and severity of lockdowns affected mental health symptoms differently. For example, strict lockdowns increased depression, while the onset of social restrictions increased stress. Low social restrictions, where some restrictions existed but not full lockdown, were associated with increases in anxiety.
Mental health outcomes also differed by age, with young and middle-aged groups reporting more negative mental health symptoms than older adults.
What lessons can we learn from these insights?
The results give us a good idea of ​​what public health outreach should look like in the event of future pandemics.
Fear was most prevalent when low restraints were introduced. This could be because people were nervous about the precariousness of the situation and the potential spread of the virus. The introduction of such measures should be accompanied by health messages and interventions focused on alleviating chronic anxiety and worry.
In times of severe social restrictions, the predominant mental health problem has been depression, which means that mental health interventions should focus on tackling depressive symptoms such as hopelessness and aimlessness.
The results for stress suggest that symptoms are likely to increase in the early stages of enforcing social restrictions. This is likely because the start of the restrictions tells people an increase in the severity of the pandemic threat and people have to work very hard to reorganize their lives when the restrictions include the need to work from home and school to visit.
---
Read more: Lockdowns make you lonely. Here are 3 steps we can take now to help each other


---
During these times, it can be especially important to provide messages and interventions to help people manage their stress, such as: B. dealing with work stress or the stress of children who teach at home. For parents, parenting and family stress could be reduced by making them feel productive in the home classroom and encouraging strategies that encourage positive family functioning (e.g., more constructive communication and problem-solving).
With social limitations coming along with increasing loneliness, promoting digital technologies is also important to make people feel connected.
With all of these mental health issues, it is expected that messages that communicate these symptoms will help sufferers to normalize and acknowledge the nature and severity of their symptoms. This, in turn, can prompt people to seek help for their mental health symptoms.
The research quality was poor
Another important point to highlight from our review is that research conducted during the first year of the pandemic was generally of poor quality.
This is because good measures of social limitations have been difficult to find in studies. Some studies did not describe in detail the specific restrictions in different cities or did not ask the study participants to what extent they comply with the restrictions.
Some studies also looked at people's mental health symptoms on the day social restrictions were first enforced. Most people are likely to experience increased but temporary spikes in mental health symptoms, which of course may lessen after the initial lockdown announcements. This means that it is difficult to get a handle on the "true" impact of social restrictions on mental health on the first day of restriction activation.
However, the impact of social restrictions on mental health symptoms was similar in all studies that interviewed individuals at a given point in time and in which they were interviewed more than once during the restrictions. This suggests that although many studies do not have the best assessments of social limitations, the estimated effects appear robust.
The results of our review indicate that while we still have a long way to go in researching the impact of social restrictions on mental health from COVID-19, initial research shows that these restrictions do in fact have a negative impact on mental well-being of citizens have affected.
While such restrictions can be an effective public health response to contain the spread of viruses like COVID-19, there must be a coordinated response to protect people's health and Mental health.
---
Read more: Melbourne's second lockdown will affect mental health. We must watch out for the weak


---