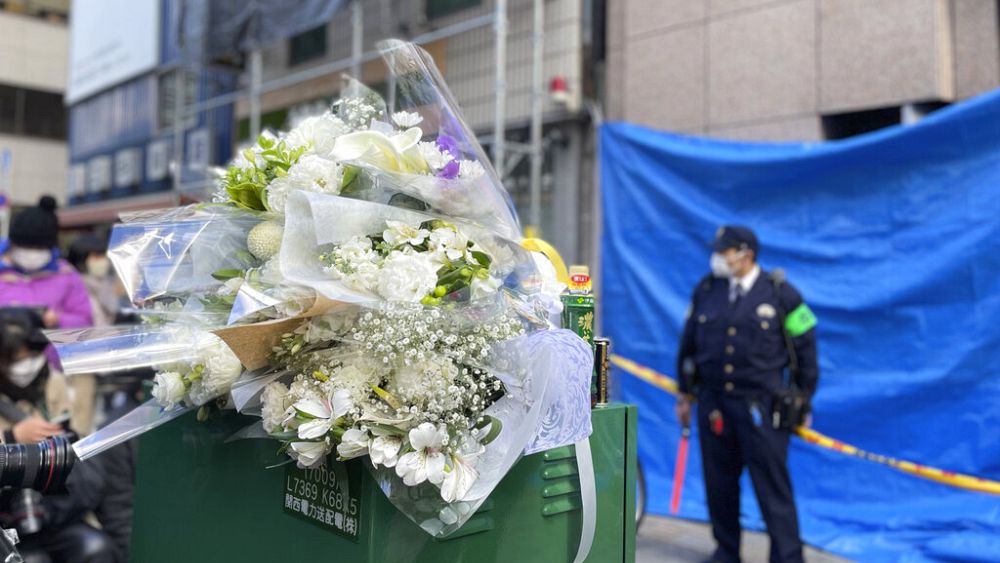 Japanese police are investigating arson after 24 people caught fire in an Osaka mental hospital. died
Flowers mark the scene of an alleged arson attack in Osaka city, in which 24 people were killed.
On Friday, a fire devastated an entire floor of a mental hospital in the heart of the country's third largest city.
A woman was rescued by the fire department and is being treated in a hospital. Three other people had to be resuscitated and remained in serious condition.
Before the fire, witnesses are said to have seen a man between the ages of 50 and 60 come to the hospital with a bag filled with an unknown liquid and then spill it next to a heater.
On Saturday, police ransacked the home of one of the patients who were being investigated as a possible suspect, Osaka police investigators told AP.
About half an hour before the building fire at the man's house, a small fire broke out and a patient file was found, the investigator said.
It is believed that he was one of the three people who survived and were in severe condition. The police did not arrest anyone and it may take the man a while to recover enough to be questioned.
Authorities have not ruled out that the man is one of the 24 people who were killed in the fire.
A witness described the incident and said it arrived after the fire was contained.
"I thought there was a small fire, but then there were an unusually large number of ambulances and fire engines. The lights were also turned off. I was really surprised for a moment," said the unnamed witness.