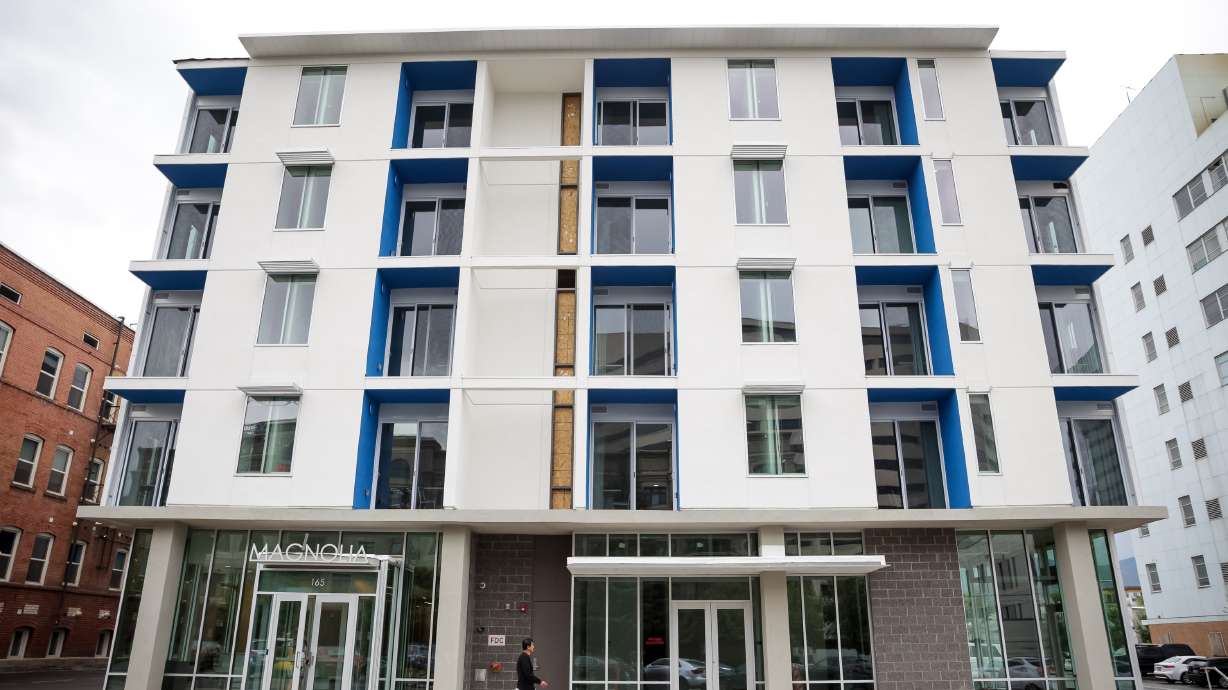 "Housing is Healthcare": Utah proponents say more permanent supportive housing is needed
Magnolia, a new permanent home owned by Shelter the Homeless and operated by Road Home, has 65 units for people who have experienced homelessness. (Spenser Heaps, Deseret News)
Estimated reading time: 5-6 minutes
SALT LAKE CITY – Housing and disability advocates in Utah on Wednesday rejected a recent audit that criticized low revenue from permanent supportive housing and called on state lawmakers to allocate $ 200 million in federal funding to affordable and permanent supportive housing .
Permanent supportive housing that provides additional social services is provided to people who are considered chronically homeless. Chronic homelessness is defined by the state as someone with a disability who has either been continuously homeless for at least a year or has been homeless four times in three years.
As the number of people in Utah who have become homeless over the past five years has continued to rise, so has discussion about the state's efforts to resolve the problem. State lawmakers also announced at the 2021 session that US $ 50 million of the state budget for affordable housing and homelessness initiatives will be multiplied to US $ 730 million through community donations and investments.
The increasing number of homeless people has led to disputes between elected officials. Most recently, Salt Lake City Mayor Erin Mendenhall expressed frustration that the city is hosting "far more than its fair share of homeless services" in a nationwide crisis.
Despite the money pouring into combating homelessness, the state continues to grapple with hardship, and the latest state legislative review has questioned "whether large increases in funding will produce the desired results".
State auditors also asked whether success was determined by helping individuals achieve self-sufficiency or housing. The apartment-oriented strategy, according to the audit, costs a lot of money, but does not necessarily provide living space for everyone in need. The audit noted the low turnover in supportive housing and found that some residents "choose not to deal with the mental illness or substance abuse problems that have made them homeless and unable to do so to take care of oneself ".
However, some supporters of the Utah homeless say the criticism of permanent supportive housing and its cost has been short-sighted.
"Over the years, it has been shown that assisted living not only improves outcomes, but also lowers healthcare costs when offered to people with complex needs. If someone is staying in an apartment for the long term, this is the result they want. It shows that the model works, "panelist Sherri Wittwer said in a webinar hosted Wednesday by the Crossroads Urban Center, the Disability Law Center and the Utah Housing Coalition.
The opinion was repeated by another panelist.
"The word permanent should say something," said Tara Rollins of the Utah Housing Coalition.
Both Whittwer and Rollins said the cost savings from permanent support housing were overlooked during the audit. Providing permanent supportive shelter to the homeless – especially those with mental health problems or substance abuse – would reduce the cost of camp cleanups, overuse of ambulances and emergency rooms.
"Although we have made great strides in developing rapid reaction systems, we still have a lot to do to prevent crises in the first place," said Whittwer.
Whittwer argued that the solution was not to build more mental health facilities or beds, but rather to combine permanent supportive accommodation with evidence-based mental health services such as peer support, community-based care, effective case management and confident community treatment.
"If we want solid policy solutions that reduce the strain on our homeless service system, law enforcement and first responders, the courts, correctional facilities and emergency rooms, we must first look at housing," Whittwer said. "If we offer a variety of housing options with services and support based on individual needs, we will break the cycle and be able to offer high quality, affordable solutions that focus on long-term stability, independence, development and dignity of the individual focus."
The panelists argued that the auditors did not recognize that long-term living paired with community-based services leads to self-sufficiency. Andrew Riggle of the Disability Law Center added that the exam point on drug addiction and mental illness shifted the blame to a perceived failure of a person, rather than a failure of a system to provide adequate resources and support.
"It is easier and less costly to ignore a person than to solve a problem. Ethically, it's simple – Utah must take responsibility for closing the revolving door on hospitalization or incarceration by investing in alternatives beyond suicide prevention and crisis stabilization, "Riggle said.
The low turnover rate also extends beyond those who need additional support due to drug addiction or mental illness, the panel added. Proponents pointed to people with disabilities struggling outside of permanent supportive housing.
Tecuani Oliver, a member of the Disability Rights Action Committee, said autism affected her while she was homeless. People with different disabilities need to be considered and faced with a variety of options in lieu of a "monolith," added Oliver.
"There are segments of the vulnerable population who will need this supportive shelter for the rest of their lives, but there are large numbers of people who can convert it with the right support and mentoring and coaching and access to the right services. "Said Clare Collard, D-Magna, representative of the state of Utah.
While urging state lawmakers to allocate $ 200 million in federal funding to affordable and permanent supportive housing, proponents pointed out one final need lawmakers should address.
"It is vital that we have access to these services in the communities where people live. We can't expect people to all come to Salt Lake County or any major metropolitan area. We really need the services in the community they live in and where they may already have some community support, "added Collard.
×
similar posts
More stories that might interest you