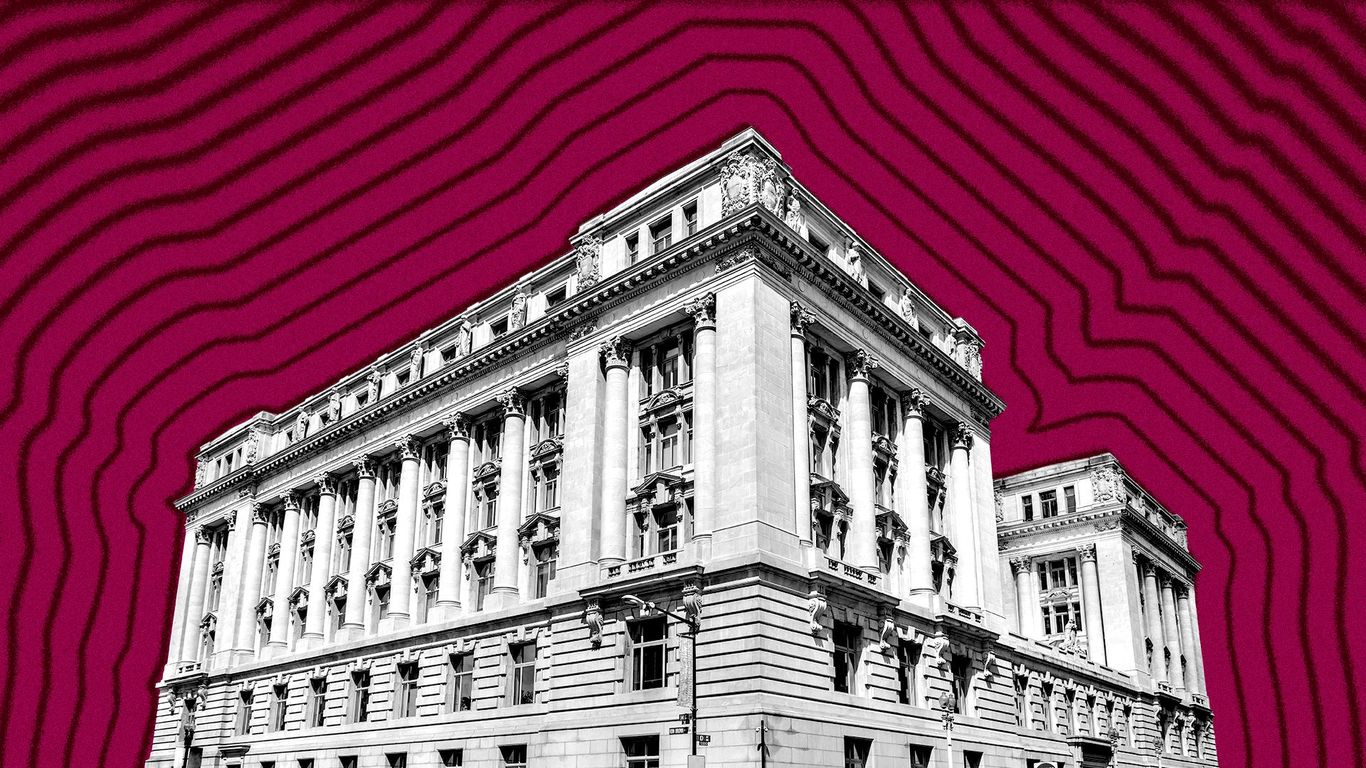 Healthcare company Amerigroup is at the center of the DC Medicaid saga
Image: Brendan Lynch/Axios
Meet Amerigroup. It is a Fortune 500 company that manages government health plans for low-income people. Its affiliates also have a history of fines and patient handling allegations in multiple states. Amerigroup is now poised to recover a portion of the district's $1.5 billion Medicaid contract.
Welcome to DC's Medicaid saga.
Why it matters: There was an achingly long battle royale over the management of the city's Medicaid services. Since 2017, four companies, including Amerigroup, have engaged in finger pointing and contract grievances as they compete for the three open contract spots.
One in three DC residents, including the poorest and most vulnerable patients, receives Medicaid health coverage. They have been pushed back and forth between different healthcare providers in recent years.
Driving the news: The district selects three contractors to run its Medicaid program through a competitive bidding process, and the DC Council will now process the contract for Amerigroup and the other award winners, MedStar and AmeriHealth.
Amerigroup is at the center of this conflict.
Since losing the contract, CareFirst, one of the current Medicaid contractors, has publicly campaigned to urge the DC Council to intervene.
Game Status: Councilor Vincent Gray, chair of the Health Committee, and other critics point out that Amerigroup and its subsidiaries have a history of paying fines and facing allegations of poor patient care nationwide.
Gray wrote to colleagues last Monday that he was considering turning down the new contractors, known as managed care organizations (MCO).
"We stand ready to bring back an MCO with a colorful history in the district and a well-established reputation for denying care to vulnerable Medicaid members," Gray wrote in the letter acquired by Axios.
Zoom in: Previously, an Amerigroup subsidiary served the district in two separate periods, most recently from 2017 to 2020. In its senior year, Deputy Mayor for Health Wayne Turnage told a DC Council committee that patients were leaving Amerigroup in droves to take care of themselves to be insured with other providers.
At that July 2020 hearing, Turnage was stunned by Amerigroup's 30% profit margin, compared to its competitor's 4%.
"I've never seen a publicly funded health plan with a 30% margin," Turnage testified. "When we in Virginia had plans to make more than 6%, they came back and voluntarily cut our checks."
Turnage declined to comment on the contracts with Axios last Friday, citing the ongoing process. He referenced his 2020 public statements about Amerigroup.
The other side: In response, Amerigroup says patients have given up their services to other companies because MedStar, the DC-area healthcare giant, has refused to offer its services to Amerigroup patients. (DC later required that all Medicaid providers offer their services to each other.)
Amerigroup DC President Adrian Jordan wrote his own letter to lawmakers. He dismissed Gray's criticism as "the product of a broader disinformation campaign waged by an unsuccessful provider," citing CareFirst's lobbying work. He reiterated similar views in a statement to Axios, adding, "Amerigroup DC is committed to providing DC residents enrolled in Medicaid with no or low-cost access to health care."
A black eye for Amerigroup is a $225 million fine in 2008 to settle federal and state Medicaid fraud allegations. A key allegation was that the Illinois company systematically refused to provide maternity care.
More recently, in Texas, Amerigroup told the state legislature in 2018 that it had paid $20 million in fines after alleging it denied medical care to disabled patients. In Iowa, a 2021 audit accused Amerigroup of denying care to some patients.
What's next: Several council members told me Tuesday they were still awaiting the formal delivery of the contracts by Mayor Muriel Bowser, who promised they would come out last week.
The waiting game stokes last-minute jitters in a bureaucratic process that feels like a comedy of mistakes, with dire consequences.
Town Talker is a weekly column about local politics and power. Send me tips: [email protected]