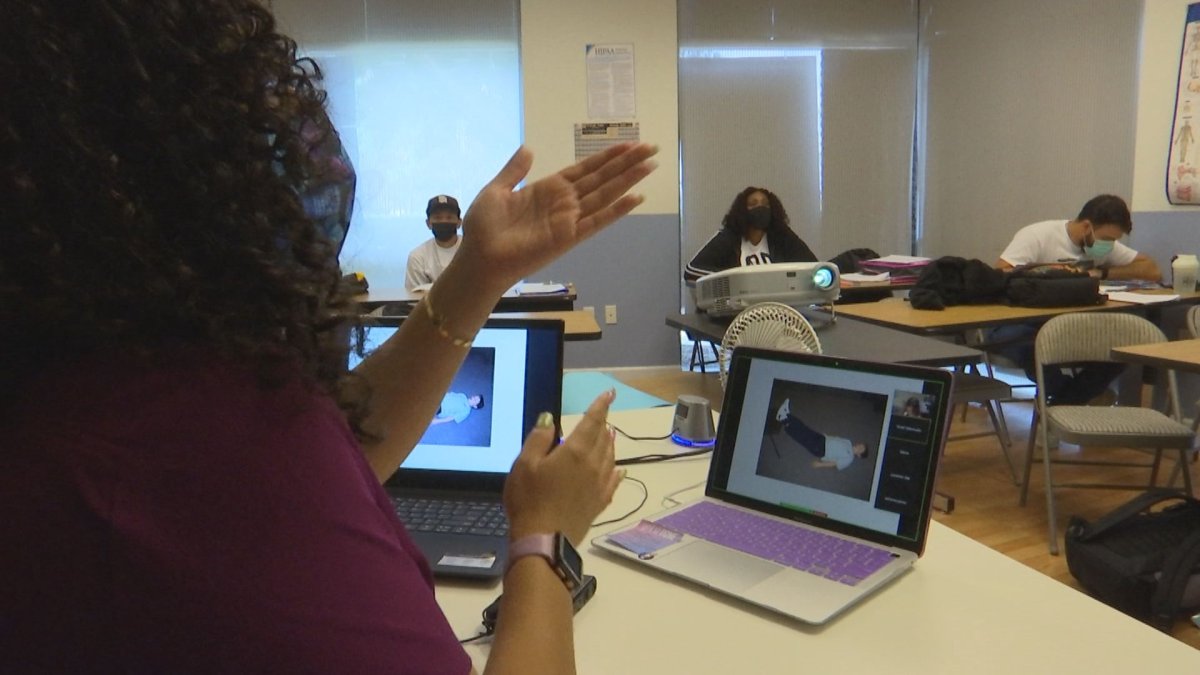 Health workers could be at risk from vaccination mandate – NBC 7 San Diego
Six students sat carefully taking notes while their smocked teacher led them through what to do if they noticed their patient was having difficulty breathing. They made notes between quick glances at the images projected on the board.
The fact that the classroom was only 40% occupied didn't bother anyone, but the founder of the San Diego Medical College at Chula Vista feared it was a bad sign for the future. Tuba Kazzan said the classrooms on campuses Chula Vista, National City and Miramar were only filled a few weeks ago. However, Kazan said things changed after California announced that all health care workers must be vaccinated by November 30th.
"Completely dropped," she sighed. "Dropped completely."
Kazan said the empty classroom seats are a sharp contrast to what her school saw during the pandemic.
"People came out and said, 'Hey, I want to know. I want to have the knowledge to do care and get jobs, '"she said.
Kazan said San Diego Medical College is the only school allowed in-person classes for certified nursing assistants (CNA) in San Diego Health during the early stages of the pandemic. She said the demand for trained employees increased in 2020 and 2021. Now, Kazan said, the demand is even higher as the medical staff is reduced by people who stop or refuse to be vaccinated. She said it shame her students who can't do their clinical rotations with real patients.
"And if you can't, you can't take your state exam," she said. "Agencies call and say: 'We need people!'"
The need was raised by the head of UC San Diego Health Dr. Christopher Longhurst confirmed.
"We are running out of fewer beds for patients and are more likely to run out of staff to care for these patients," said Dr. Longhurst across from NBC 7.
"I'm worried," said Kazan. "I am very worried because I will come for treatment myself."
Kazan has leukemia and will have stem cell treatment starting next week. It could keep them away from their students for more than a year. She fears that her care may not be optimal if the health workforce is not fully equipped.
Kazan said she was torn from the California mandate. Her students disappeared because they refused to be vaccinated.
"I have been vaccinated myself, but I understand it perfectly," said Kazan.
She admitted holding the state responsible for needing the vaccine for health professionals. Kazan said a good CNA, doctor, or PA shouldn't be punished for not wanting the vaccine.
"They are ready to work and there are people who are vaccinated and may not be ready to work," she said. "It's about patients. It's about giving this care. "
Kazan now fears that the empty classroom could have an impact on patient care for months or even years.
"If we can't have nurses (doctors and CNAs) who will take care of us?" She asked.