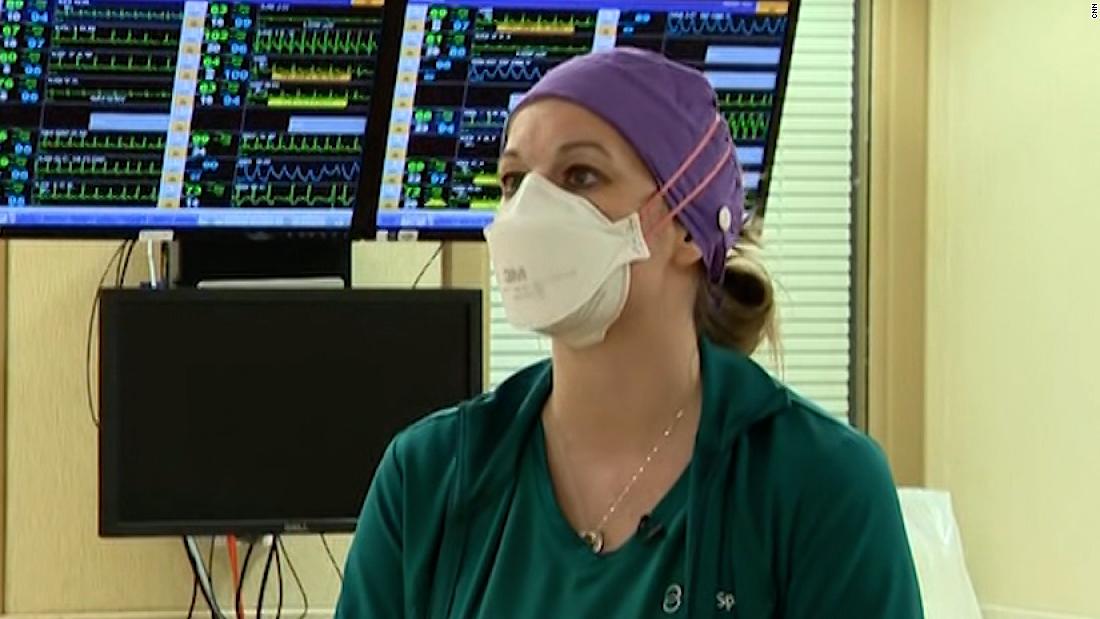 Covid-19 patients in this hospital are dying "at a rate we've never seen before" – and that puts a strain on healthcare workers
"I was really hoping we (all) would get vaccinated and things would get back to normal," said Sefton, assistant director at Sparrow Hospital in Lansing, Michigan.
"We have more patients than ever before, and we are seeing more people dying at an unprecedented rate," said Jim Dover, President and CEO of Sparrow Health System.
"We have had about 289 deaths since January, 75% of which are unvaccinated," said Dover. "And the very few (vaccinated) who died were all more than 6 months after they were vaccinated. So we haven't had a single person who had a booster who died of Covid."
Among the new Covid-19 victims, Sefton said she had noticed a worrying trend.
"We see a lot of younger people. And I think that's a challenge," said Sefton, a 20-year veteran in nursing.
She recalls helping a young adult's family say goodbye to their loved one.
"It was a terrible night," she said. "That was one of the days when I went home and just cried."
"We haven't even reached the climax yet"
Not only Michigan is facing a stressful winter with Covid-19. According to data from the U.S. Department of Health, Covid-19 hospital admissions rose 40% across the country compared to the previous month.
This is the first Christmas season with the relentless proliferation of the Delta variant – a variety far more contagious than that of the Americans last winter.
"We keep talking about the fact that we haven't reached the climax yet," said Sefton.
Health experts say the best protection against Delta is to get vaccinated and boosted. But as of Thursday, only about 64.3% of eligible Americans were fully vaccinated, and fewer than a third of those eligible for a booster had received one.
Sparrow Hospital nurse Danielle Williams said the vast majority of her Covid-19 patients weren't vaccinated – and had no idea they could be beaten so hard by Covid-19.
"Before they came through the door, they had a normal life. They were healthy people. They were celebrating Thanksgiving, "said Williams. "And now here you are, with a mask on your face, with tears in your eyes, staring at me and wondering whether you will live or not."
"The next few weeks are looking tough"
Dover said he was sad but not surprised that his state was being hit by Covid-19.
"Michigan isn't one of the states with the highest vaccinations, so one variety at a time is growing and spreading across the state," he said.
"The next few weeks look tough. We currently have over 100% capacity, "said Dover.
"Most of the hospitals and health systems in the state of Michigan have adjusted to code red triage, which means they won't accept referrals. And when we go on vacation, at the current growth rate we have today, we would expect 200 inpatient Covid patients by the end of the month – every day. "
And that would mean "absolutely stretching us to the breaking point," Dover added.
"We have already stopped elective inpatient operations," he said. "In order to create capacity, we converted our wake-up ward into another intensive care unit after the anesthesia."
"There is a lot of frustration"
Sister Leah Rasch is exhausted. She has worked with Covid-19 patients since the beginning of the pandemic and was stunned when so many still unvaccinated people entered the Covid unit.
"I didn't think we'd be here. I really thought people would be vaccinated," said the Sparrow Hospital nurse. "I can't remember the last time we didn't have a full Covid floor."
The relentless onslaught of Covid 19 patients has had an impact on Rasch's own health.
"There's a lot of frustration," she said. "The other day I had my first panic attack … I drove to work and couldn't get out of the car."
"We need everyone who can be vaccinated"
Dover said many people asked how they could support health care workers.
"If you really want to support your employees, and you really want to support health care heroes, get vaccinated," he said. "It's not political. We need everyone to get vaccinated."
He also urges those who previously had Covid-19 to get vaccinated as some people can become infected again.
"My daughter is a good example. She had Covid twice before being eligible for a vaccine," Dover said. "She still got a vaccine because we know that if you don't get the vaccine, simply contracting Covid will not be enough to protect you from getting it again. And I know that from my own experience."
And Dover said those who are not vaccinated should not be on guard.
"The problem is, it's not over yet. I don't know if people realize how critical it still is," he said. "But they know when they come to the emergency room and they have to wait three days for a bed. And that's when they know."
CNN's Deidre McPhillips contributed to this report.